Windows Driver Available for Nikon GP-1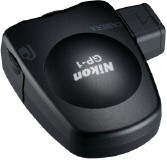 Nikon's GP-1 geotagger, which I reviewed here last March, has a USB port for connecting directly to a computer, but apparently the (Windows-only) driver had been delayed. It's available now, though. Via Nikon Rumors.
Previously: Still Another Nikon GP-1 Review; Review: Nikon GP-1 GPS Unit; Nikon Digital SLR Geotagging Roundup; Another Nikon GP-1 Review; Nikon Geotagger Reviewed; Nikon's Digital SLR Geotagger.